WOEMAIL is a tool that automatically composes and sends emails using Word, Outlook, and Excel. You will create the body of an email in Word, and perform the email creation in Excel. The emails will be composed automatically and saved in the draft folder of Outlook.
You can use the word document for the body of an email as a template. You can use it many times, use it for more than one purpose, and save time writing an email from scratch.
This tool helps you compose messages to connect your business with your customers, build your communities, or communicate with your friends and family. You can use it for various purposes. In this article, I will introduce what WOEMAIL can do for you.
1. Auto compose the two types of emails
WOEMAIL allows you to create two types of emails: Single Email and One to One Email. Single Email allows you to specify up to 100 recipients for TO, CC, and BCC. One to One Email allows you to create up to 100 emails with inserting the recipient's name and text messages in each email. The emails will be automatically created and saved in your Outlook Drafts folder.
People get so many emails these days, so email personalization is the best way you can create more authentic interactions with your contacts. Using One to One email, you can compose a relevant message with content specific to each email recipient. You can use this tool in a variety of ways as shown in the examples below.
At the office
It can be used for daily office tasks such as regular reports, meeting invitations, meeting minutes, and sending emails to external parties. Single Email is the best way to send emails to fixed recipients in a certain formed document.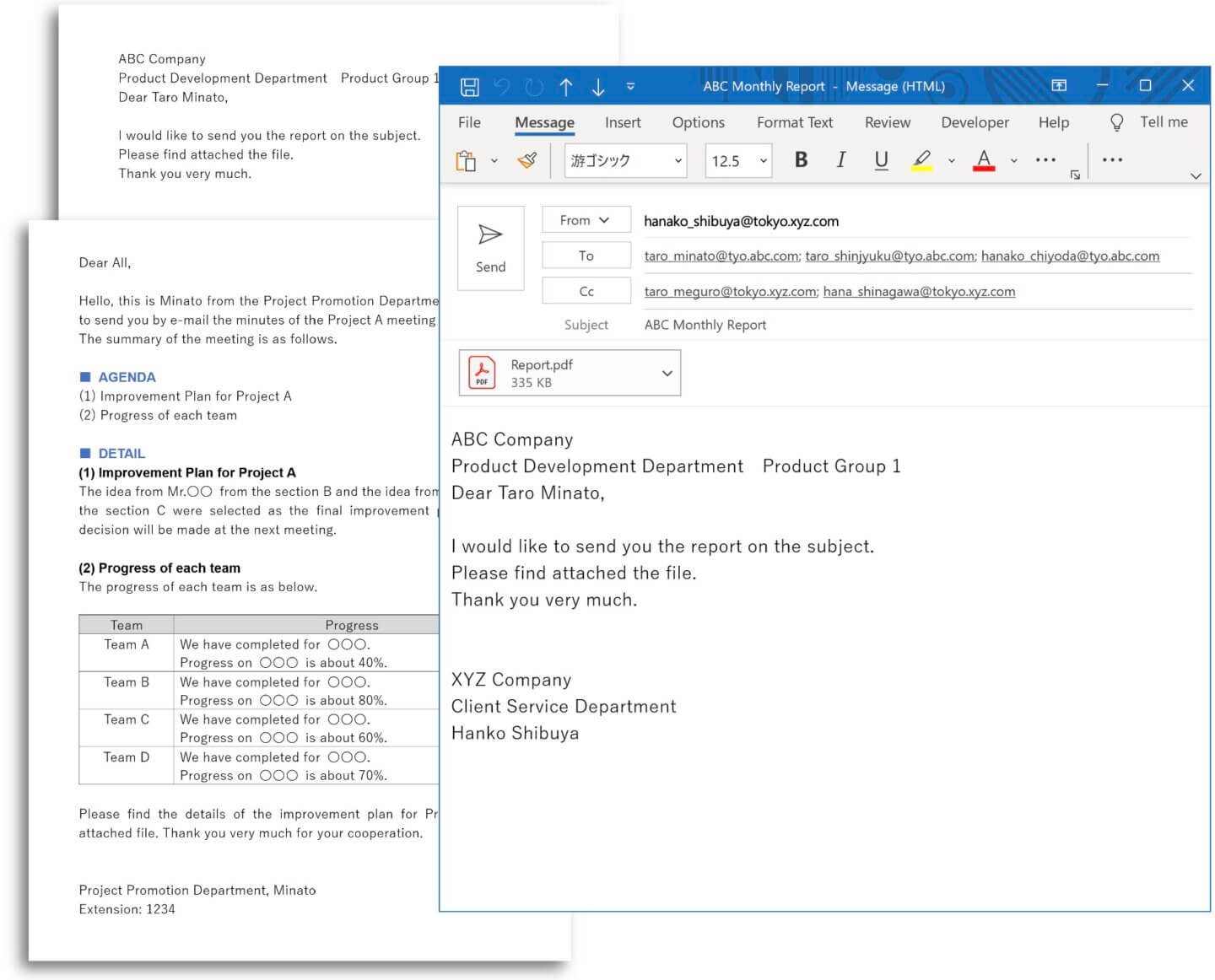 For marketing
You can use it to send emails to your customers to inform them about new products, greetings, announcements, etc.
I don't send emails often.
I don't send emails to more than a few thousand addresses.
I want to keep costs down.
If the above applies to you, WOEMAIL can help you. You can send emails without using an email delivery system. It allows you to insert the recipient's name and messages, which can help build friendly communication.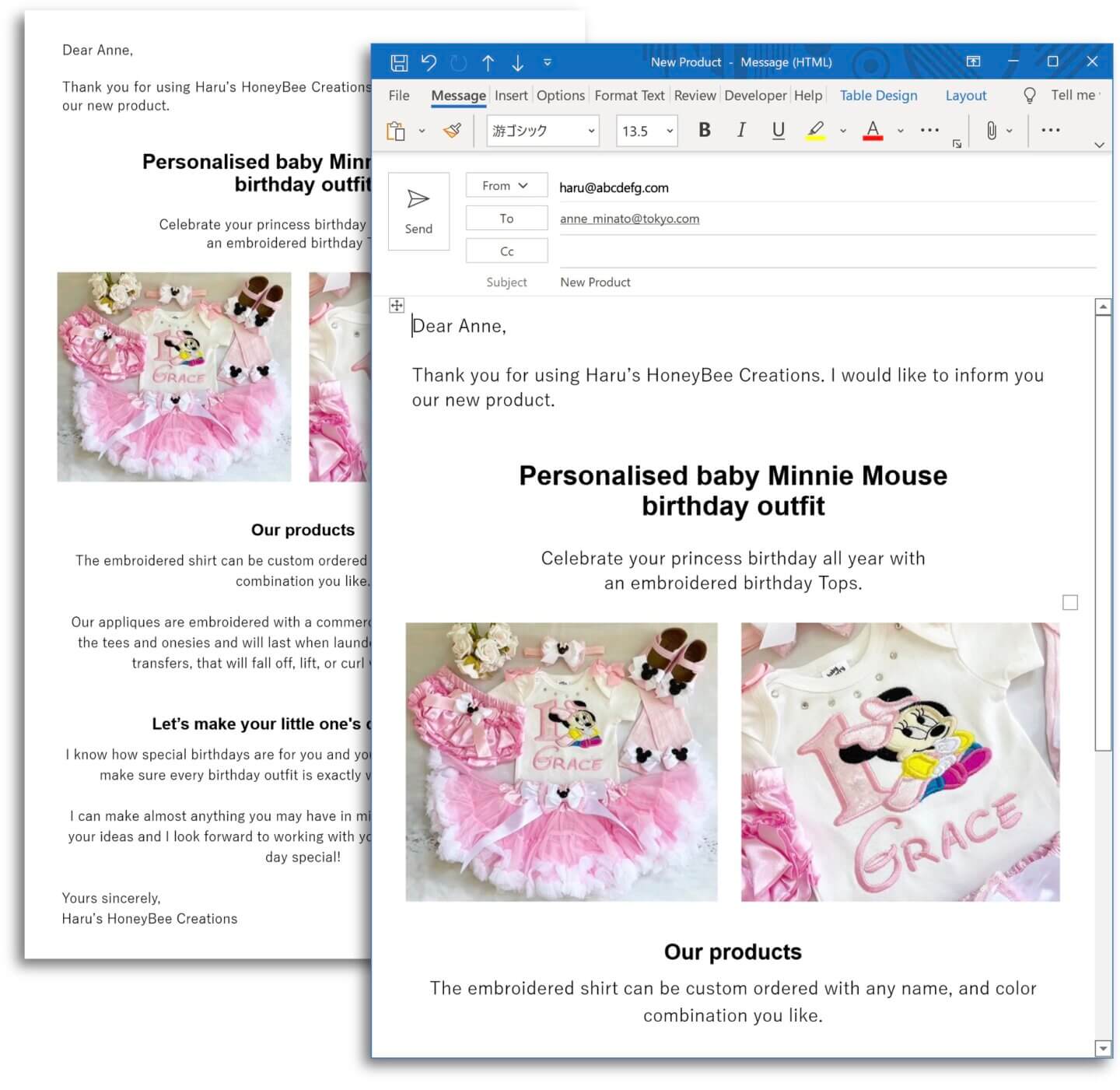 For community
You can use it to announce concerts, dance recitals, and parties. It allows you to paste images into the body of an email to send emails with stylish designs. The sample below is the image of 1080 x 1920 pixels inserted.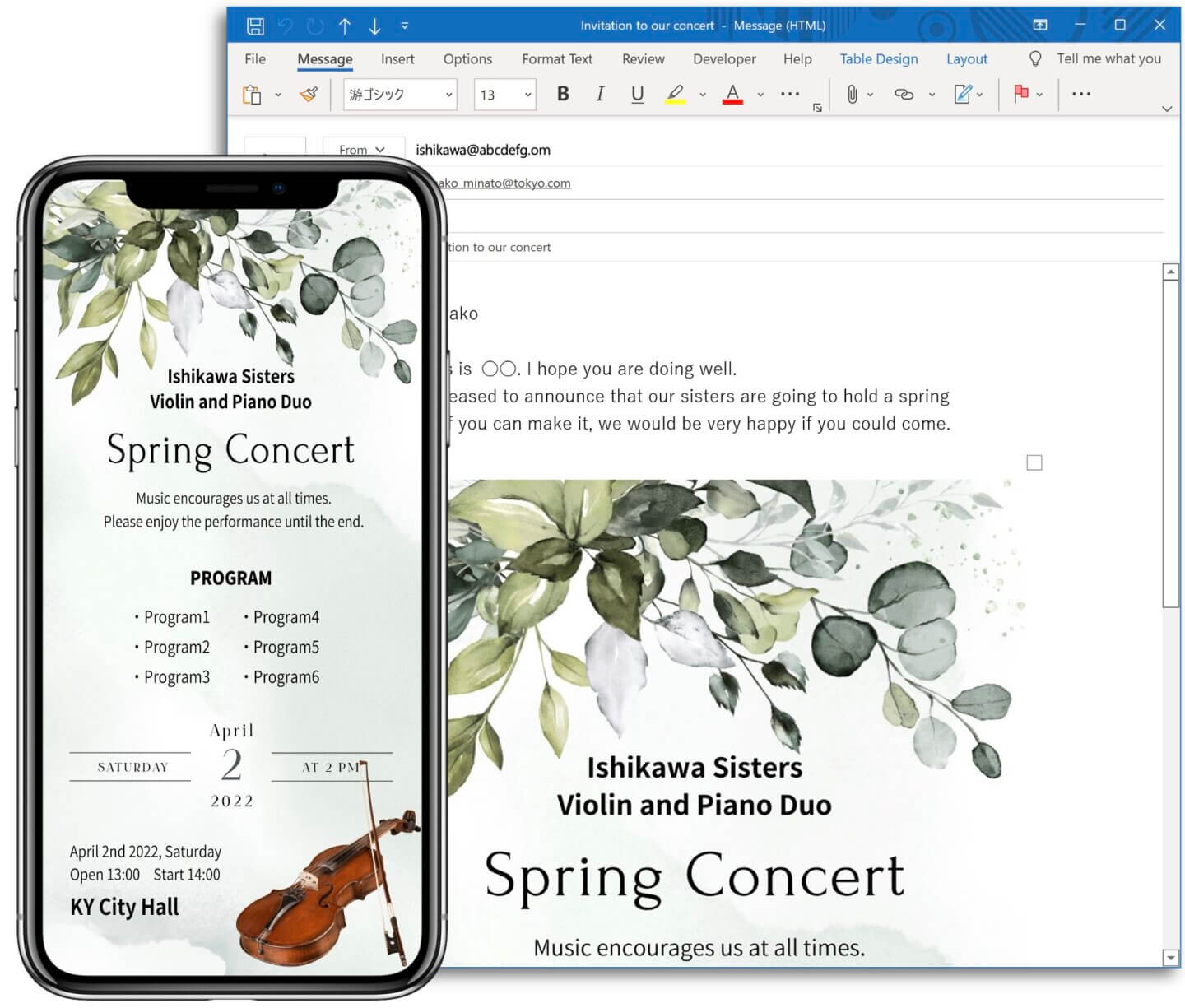 You can create easily stylish designed images using Canva. Canva provides many design templates, images, and high-quality content. You can easily create a stylish design by choosing a template you like and changing the text and images.
Canva Free allows you to use the basic features and create any design for free, while Canva Pro gives you access to advanced features such as background remover and magic resize functions, as well as a lot of content.
2. Useful features of WOEMAIL
This tool has Useful features below.
Specify an email account
If you have several email accounts set up in Outlook, you can specify the email account that you want to send. You can send emails from your regular email account or a specific email account. The auto-created emails will be saved in the Outlook Drafts folder of the specified email account.
Mass Emailing
It sends the emails saved in the Outlook Drafts folder. It sends up to 100 emails at once.
Attach Files
You can attach up to 5 files to an email.
3. The flow for composing emails
This tool automatically composes emails using Word, Outlook, and Excel. The flow of creating emails is as follows.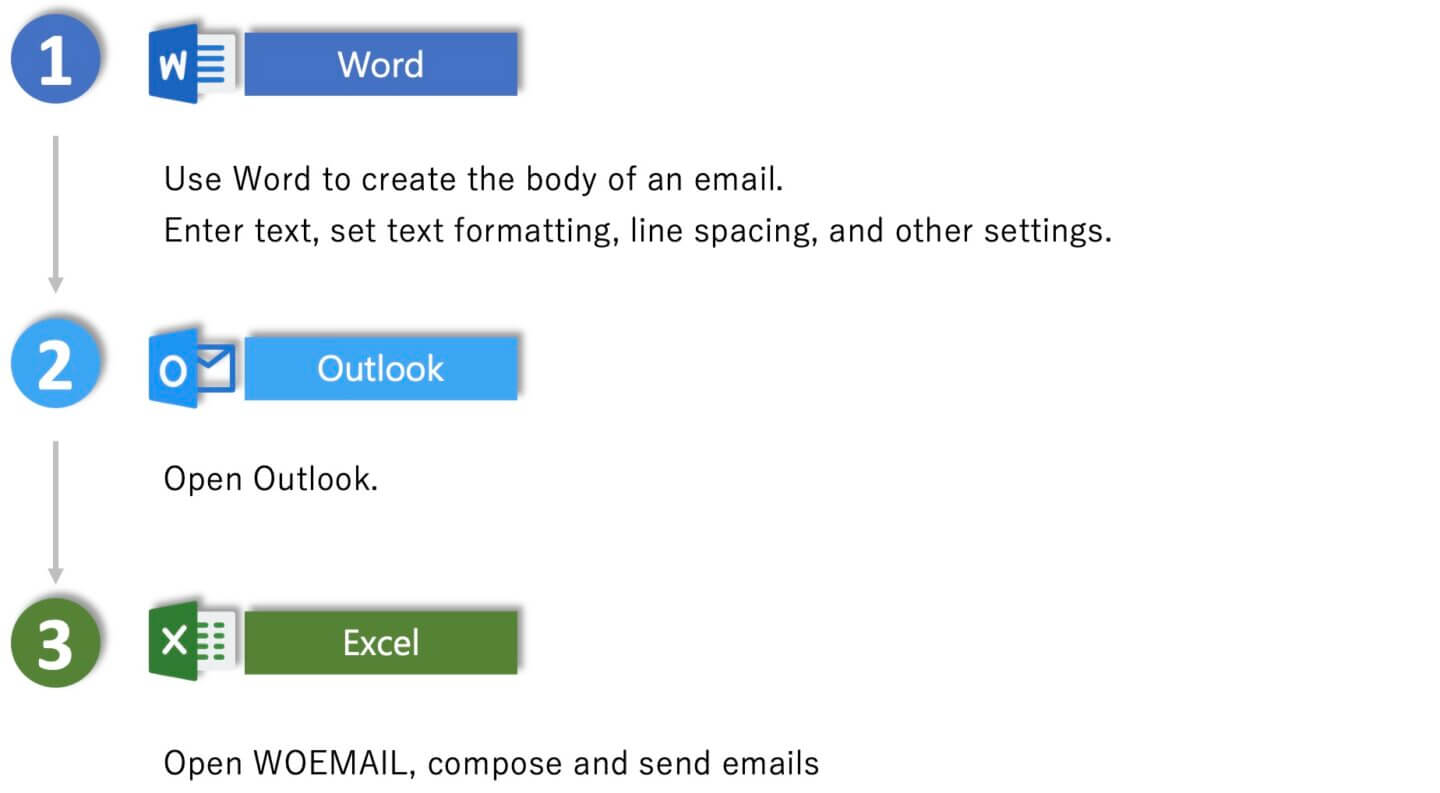 How to compose One to One Email
How to compose Single Email
–
You can also insert images to create a well-designed email.
OLIVENNE provides email templates. Using email templates makes the processes a lot easier and faster than designing an email from scratch, and you can save time.
4. System requirements for using this tool
The system requirements to use this tool are below.
Device
Windows PC
OS
Windows 10 (64-bit)
Application
Microsoft Excel 2019 (64-bit)
Microsoft Word 2019 (64-bit)
Microsoft Outlook 2019 (64-bit)
This tool is created with Office365, which is the latest version of Excel, Word, and Outlook. I recommend using the latest version of the application. I cannot guarantee that it will work properly with earlier versions.
The following article will help you to find out whether you are using 32-bit or 64-bit Windows and Microsoft Office applications.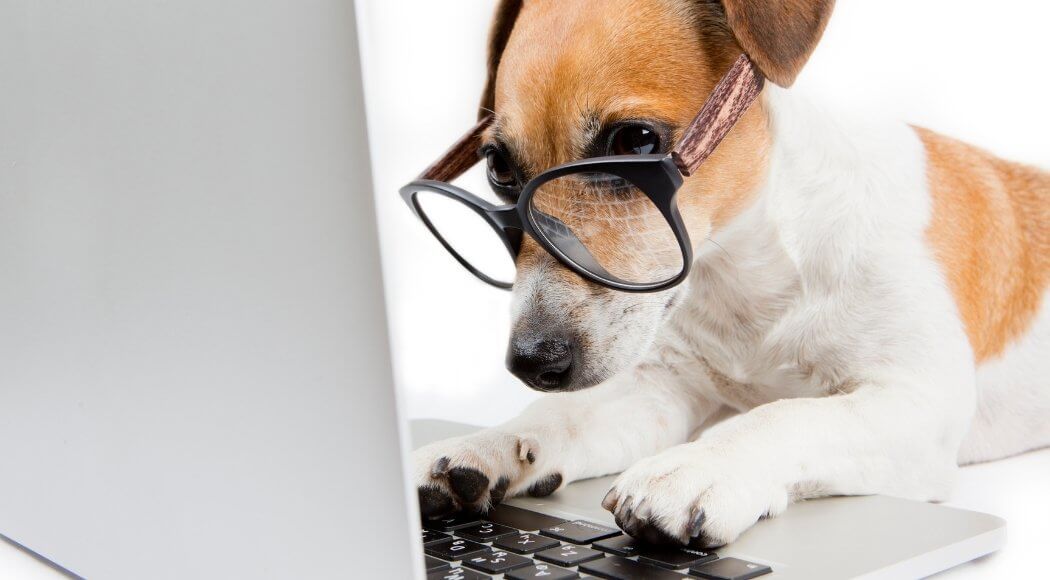 The same version of Windows is sold in 32-bit and 64-bit versions. Pre...
5. How to purchase this tool
You can purchase the English version of this tool from Etsy and the Japanese version from BASE. Once you have completed the purchase process, you will be able to download the file.
Online Shop
Price
Purchase price: 4,600 JPY
6. Apply for Free Trial
Please fill out the form below and click the submit button. It will send you the URL of the download site. Please access the URL and download the trial version.
–
This site is protected by reCAPTCHA and the Google Privacy Policy and Terms of Service apply.